Summary: People always try something new. Such as watching DVD on TV via NAS instead of via DVD drive. If you still have problem about keeping the main titles or chapters on your NAS and watching them on TV, this article will help you a lot.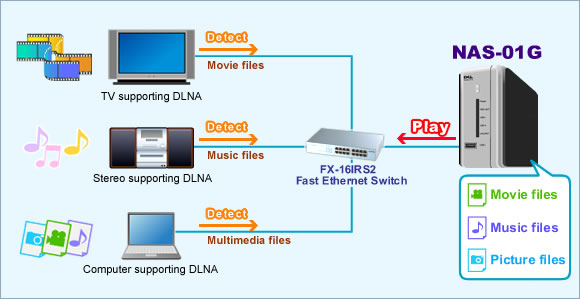 As a DVD collection owner, you will choose to rip DVD movies for more convenient playback. And if you have a NAS device, you probably would like to copy DVD collection to NAS drive to allow you to view via DLNA. While, the NAS is just a big file storage really and you may find that just copying the DVD files to NAS directly is a pain to try and play with a media streamer. So, what is the best way to take the DVDs and put the DVD movies on NAS drive for playing via DLNA…
The detail DLNA supported formats are listed below :

Legend:
O = Supported
X = Not Supported
Category
Codec
Container
File Extension
DLNA/ Wi-Fi Direct
Video
MPEG1
MPEG1
.mpg, .mpe, .mpeg
O
MPEG2
MPEG2PS
.mpg, .mpe, .mpeg
O
O
MPEG2
MPEG2TS
.mpg,.m2t, .mpe, .mpeg
O
O
AVC(MPEG4 part10)
MPEG2TS
.m2ts, .mts
O
O
AVC(MPEG4 part10)
MP4
.mp4
O
O
MPEG4 visual(MPEG4 part2)
MP4
.mp4
O
O
DivX Home Theater Profile 3.0 *1
avi
.divx, .avi
O
(Except KDL-HX95x Series)
O
(Except KDL-HX95x Series)
Xvid
avi
.avi
O*5
O*5
WMV
Asf
.asf, .wmv
O*2
O*2
–
OGG
.ogv
X
X
–
3gpp/3gpp2
.3gp, .3g2
X
X
DivX HD
avi
.divx, .avi
X
X
DivX HD plus
MKV
.mkv
X
X
–
RealMedia
.rm, .rmvb
X
X
–
MOV
.mov
X
X
–
FLV
.flv
X
X
MVC
MPEG2TS
.mvc
X
X
Music
LPCM
–
.wav
O
MPEG-1 Audio layer3
–
.mp3
O
O
WMA
Asf
.wma
O*3
O*3
AAC
MP4
.mp4, .m4a
O*6
O*6
Image
JPEG
–
.jpg
O*4
–
.mpo
O*6
O
PNG
–
.png
X
X
RAW (Sony α)
–
.arw
X
O
*1: DivX SD
*2: Supported for WMV9/VC1
*3: Only supporting WMA9 Standard
*4: Supported for DCF2.0/Exif 2.21 (YCbCr 4:4:4 is out of this specification)
*5: Internal GMC is not supported
*6: If it cannot play, please perform Software update.
From the table we know that the DVD files format are not supported by the DLNA. What should we do? I would recommend you a best program for ripping DVD to NAS–Pavtube DVDAid for Mac. It aims to solve this problem by recognizing all the titles and chapters and can be selected one or more depends on you, then you can rip the selected titles or chapters to the target format ( we suggest choose .mp4 here) and stream to NAS for watching on other HD device. For Windows users, turn to Pavtube DVDAid.
Other Download:
– Pavtube old official address: http://www.pavtube.cn/dvd_ripper/
– Cnet Download: http://download.cnet.com/Pavtube-DVDAid/3000-7970_4-76158510.html
Keeping Selected DVD Titles or Chapter on NAS and Watching via DLNA
Step 1: Load DVD disc.
Insert the Blu-ray disc into your DVD-Rom drive. Start up the program on your computer, click "File" > "Load Disc" option to add Blu-ray disc movies to the program.
Step 2: Choose output file format.
Select DLNA supported file format from "HD Video" > "H.264 HD Video(*.mp4)" from "Format" drop-down bar, you can also choose to output other DLNA supported file formats according to your own preference.
Step 3: Adjust output profile parameters
Click "Settings" to pop out "Profile Settings" window, set output video codec, size, bitrate, frame rate and audio codec, sample rate, bitrate and channels according to your own needs.
Step 4: Start DVD to DLNA conversion process.
Start to rip DVD to DLNA by hitting right-bottom "Convert" button.
When the conversion is over, upload the converted files to the NAS and then you can watching via DLNA. Have a good time!
READ MORE:
Add Family Movies (DVD) to Sony Xperia Z5 with Ease
Encoding Blu-ray/DVD/Video to H.265/HEVC MKV on Windows 10/8.1/8
Upload DVD to Dropbox, OneDrive, Google Drive for Share
DVD on Roku – How do I get DVDs to stream to my Roku?
Backup/Copy Protected DVD Movies on Mac OS X El Capitan